DEEP POCKET THIEVES "10 QUESTIONS" ON ALL ACCESS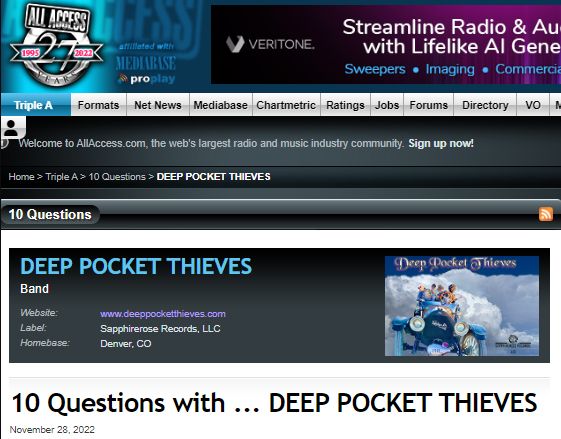 Deep Pocket Thieves has to be one of the best band names ever! Please tell us what inspired this name for the band? 
The name, "Deep Pocket Thieves" came from a musical goal that the groove, (the "Deep Pocket"), along with the melody and vocals were the most important aspects of a song. That is what we try to focus on when writing. As far as the "Thieves" part of the name, we have always identified with the rebel/pirate side of art and as artists.
Vocalist Larea Edwards has worked with the alt/hip hop group, The Flobots, live with David Foster, One Republic, Nathaniel Ratliff (on Justin Timberlake's "Palmer" soundtrack), and she still sings with her Gospel ensemble, Spirit of Grace. Songwriter Jimmy Ayers plays piano, Hammond, and slide guitar, and has worked with Allman Brothers drummer/producer Butch Trucks and award-winning sound producer Kurt Kinzel for Billy Ryan and Black Irish. Emmy-Award winning bassist Mahlon Hawk has worked with Hall of Fame drummer Bernard Purdie (Aretha Franklin, Steely Dan), Jeff "Skunk" Baxter (Steely Dan, The Doobie Brothers), Elliot Easton (The Cars), The Drifters, Al Wilson and more. Hired gun/drummer Seth Bennett plays everything from blues, jazz, funk, and ragtime, to

metal, rock, punk, ska, swing, reggae, disco/trance, breakbeat, drum & bass, and more.
That's quite a resume! Please tell us about your experience working with these legendary musicians?
LAREA EDWARDS: I met David Foster through a mutual friend, producer and musician Ric Padmore. I put together a choir for a performance at Denver's Paramount theater. I've also organized choirs for One Republic at Red Rocks. I do a lot of work with Nathaniel Rateliff. I sang on his album and the Top 5 song "Redemption," from the "Palmer" movie soundtrack which stars Justin Timberlake. I also sang on Rateliff's "Tiny Desk" performance, and the NBC's talent show, "Songland," as a background vocalist for the winning song.
JIMMY AYERS: When I played with Billy Ryan and Black Irish, Butch Trucks (drummer for the Allman Brothers Band) became our producer. Our drummer, Bobbie Berge, had played with fellow-Colorado guitarist Tommy Bolin, so I ran with many of the musicians in those circles. I wish I could put into words what a thrill it was to work with Butch Trucks and award-winning sound producer Kurt Kinzel. You've just got to hear the music to believe it!
MAHLON HAWK: Working with Bernard Purdie was a joy. He played drums for Aretha Franklin for years, and he also worked with Steely Dan. We hit it off quite well. We did our first gig in Phoenix, AZ with the late great Grammy Award winner Carmine D'Amico. The gig was unannounced and it spread by word of mouth. We played to a packed house. It was an epic evening of solid musicianship. A series of gigs followed thereafter.
I did a recording session with Elliot Easton of The Cars at Cherokee Studios in Los Angeles for Connie Rae Knapp's album. The experience was wonderful. Elliot's playing was so incredible, I told him it took me all the way back to my early days of listening to and appreciating the masterful touch of blues guitarist Michael Bloomfield.
I met Jeff "Skunk" Baxter while recording with the band "Joshua" also at Cherokee Studios in LA. It was "Joshua's" first experience as a group recording an album.  
We rehearsed our exact show for months on end before we hit the road, and we perfected the show right down to the smallest detail. Our work ethic really showed when we began recording. It only took 12-hours because we were so well-rehearsed.
SETH BENNETT: I have played drums for years with some well-known Denver bands including; Stuntdoubles and Redline Defiance. The Deep Pocket Thieves are probably the best-known group that I've played with… so far.
Red Rocks is respected as one of the greatest venues around. Have any of the members of DPT ever performed there? Please tell us about that experience? … and any other stories you would like to share about the local Denver music scene?
LAREA EDWARDS: I've organized choirs for One Republic at Red Rocks, and my 10th time performing there was with EDM artist Opiuo. I've performed at Red Rocks about a dozen times, mostly with The Moderators and Youth on Record. I've also performed with the Colorado Symphony Orchestra, singing with several groups, including DeVotchKa.
I teach thousands of Colorado Youth in a project called Black Music Matters in association with Vocal Coalition Youth Choirs. We are in our sixth year now. I have also been the musical director for a Donnie Betts production.
One of my favorite memories was meeting my hero YoYo Ma. After we sang with/for him I tried to bow down to him. I told him what an honor it was. He had been my hero since I was a four-year-old violinist. However, he bowed to me as well!!! We were on the ground trying to "out bow" each other. That was one of the BEST days of my life!
I have sung for Presidential Candidate Bernie Sanders twice. I have sung at just about EVERY Colorado venue. From Grand Lake and Lake Mishawaka to Fort Collins and Grand Junction. I've done the Fillmore, the Ogden, The Bluebird, Levitt Pavilion, Aspen, Vail, all of the major venues, clubs, and bars.
SETH BENNETT: I played Red Rocks with Redline Defiance for my birthday weekend in 2006. Having seen so many amazing shows and having dreamed of playing there for so long, I felt like I was finally home playing that stage. It was definitely a bucket list experience and one I'll never forget!
MAHLON HAWK: Denver has always had a great Jazz & Blues scene. I played at many Jazz/Blues clubs including Dazzle, Jazz at Jacks and the iconic El Chapultepec, The Buffalo Rose in Golden, and Little Bear in Evergreen. The Jazz/Blues club Nissi's in Lafayette, CO is where I performed with the popular Boulder-based band Meniskus.
Larea also plays violin? (Or do they refer to it as a "fiddle" in a rockin' blues band?) Is that you playing violin with the Flobots?
Violin/Fiddle… Potato/Patato… I just hope the people like it. I enjoy the freedom I have in DPT to just play around and play along.
I've been with the Flobots for almost a decade. I'm actually performing with them this weekend! We're childhood friends. You can hear my voice on several songs on the album, "Sleeping Giant." Mackenzie Gault is the original violinist on their big hit "Handlebars."  Occasionally, I will play along on stage with their current violinist, Sarah Hubbard.
How did Deep Pocket Thieves develop their distinctive sound? 

 Who were some of your early influences?

 
LAREA EDWARDS: I developed my singing style in my church. My sisters and I sang at least three times a week for decades. When I my husband, the blues sound matured.
I've done some tours with my sisters in our Gospel group, Spirit of Grace, along with The Gnomies, and the Flobots. Spirit of Grace has an open door at the House of Blues in NOLA. We have been dubbed, "The Miracle Sisters" by the engineers in the major studios in Colorado. We have sung on over 100 albums. The rest is history.
 JIMMY AYERS: I learned a lot from what Duane Allman had brought to the world of slide guitar and the Southern Rock sound. I was also very influenced by the slide guitar work of many other rock guitarists including; Jimmy Page, David Gilmore, Joe Walsh and others. Later, I learned to love the dobro work of Jerry Douglas who plays with Allison Krause and Union Station in the bluegrass world.
SETH BENNETT: My dad used to pound out ragtime on an old upright piano, and I loved the playful aggressiveness of his playing style on what is in fact a percussion instrument. Drums were a natural progression for me. I love many styles of music and I have played metal, rock, punk, funk, ska, swing, reggae, blues, disco, house/trance, breakbeat, drum & bass, and even some ranchero over the years.
On your new single, "What Was I Thinking," we also get to see Jimmy playing some impressive jazz and blues piano. Was piano or guitar your first instrument?
I started on accordion and violin. Those instruments led to an interest in piano and guitar. I bought my first guitar at 14 and my first Hammond organ shortly after.
 Bass player Mahlon Hawk won an Emmy Award? What's that all about?  
MAHLON: In 2003, as part of the Sound Cellar Band, I helped to create and perform the 2004 Emmy Award winning score for the documentary "Transitions Throughout The Lifespan," for KOCE/Orange County California's PBS television station with music producer Bob Stewart.
Deep Pocket Thieves were named the 2017 Champion of the Mile High Blues Society Competition, earning you the title as one of the best blues bands in Colorado. Please tell us about this experience?
We were honored to be named the winner of the Mile High Blues Society Competition. We had a great time representing Colorado in Memphis where we performed with some of the best blues-bands in the world.
 "What was the inspiration for your new single, "What Was I Thinking?" 
LAREA EDWARDS: I had a close friend who let me down in a big way. As I started to complain, I asked myself why I expected a different result. Why did I trust them in the first place? Then I couldn't get the melody out of my head. It's really a homage to personal growth. The song says to evaluate and elevate your decisions, but don't take yourself too seriously.
 We heard the members of Deep Pocket Thieves used to hang out in Best Buy just to hear your song played on the overhead speakers, so

what was your reaction when your previous single, "Locomotive" went all the way to #1 on the What's in-Store Music chart?
We were all very excited when "Locomotive" went to #1. We were very thrilled, and it was totally unexpected. The song was written by local Colorado musician John Alex Mason who is no longer with us, so we were especially happy to be a part of his legacy.
BONUS QUESTIONS
 What else is on the horizon for Deep Pocket Thieves?
We recently finished our video for "What Was I Thinking." Making that video was a lot of fun. We will be releasing our new album in 2023.
Deep Pocket Thieves
"Blues bands come and go with varying degrees of success and ability, so it's no surprise that Colorado has a plethora of new bands. Deep Pocket Thieves blends the diverse backgrounds and musical histories of its members into a delicious melange of blues, soul and rock, with just a bit of funky R&B.  The result:  a band that is so good they're heading to Memphis to compete in the International Blues Challenge on behalf of the Mile High Blues Society.  With each of the members bringing years of experience to the table, DPT has quickly established itself as a local favorite.  Their first EP is a gold mine of deep and heartfelt blues, soaring harmonics and vocals.  Lead vocalist Larea Edwards,  whose background includes singing in a church choir, has not just a fabulous and strong voice, but a charisma and presence like few in the industry. Larea leaves no doubt that her talent is soul-deep, and the rest of the band brings that same depth of ability and feeling.  With Jimmy Ayers on keyboards, Jim DeSchamp on guitar, Jodie Woodward on bass and Scott Rivera on drums, DPT is a rich blend of amazing talent and years of experience.  Four of the five offerings on the EP are originals, and the cover of John-Alex Mason's Locomotive is nothing short of magical.  The EP starts off with the original Memphis Saturday, a sultry, smoky, deep-down soul-filled blues number that showcases the talents of Larea's vocals and Jimmy's understated keyboard.  http://wolfmannsmusic.com/Last%20In%20First%20Out.html
The Deep Pocket Thieves are going to Memphis!  On Sunday, August 7th the DPT was selected by the judges for the Mile High Blues Society (MHBS) to represent them at the International Blues Challenge (IBC) in February 2017.  After competing with many local bands in Colorado, the DPT emerged as the winner of the MHBS local competition. 
2017 International Blues Challenge will be January 31-February 4, 2017. The International Showcase will open the event on January 31 with competition rounds February 1-4 in venues located on historic Beale Street in Memphis, Tennessee. Registration will open October 1, 2016. Registration deadline is November 24, 2016. 
The list of current blues artists that have competed in the International Blues Challenge over the years is impressive indeed: Barbara Blue, Fiona Boyes, Eden Brent, the late Michael Burks, Sean Carney, Albert Castiglia, Tommy Castro, Grady Champion, the late Sean Costello, Albert Cummings, Delta Moon, Larry Garner, Joey Gilmore, Diunna Greenleaf, Zac Harmon, Homemade Jamz Blues Band, Richard Johnston, Robin Rogers, Matthew Skoller, JP Soars, Super Chikan, Susan Tedeschi, Teeny Tucker, Trampled Under Foot and Watermelon Slim. 
The DPT is very honored to represent the Mile High Blues Society at the IBC in Memphis in 2017.  Along with winning acts from other Colorado Blues Societies we are proud to represent the Colorado Blues and Music Community.